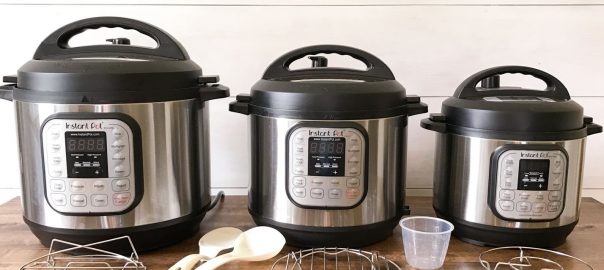 Instant Pot – Low Carb Recipes
Get to Know the Instant Pot – What Are They & How do They Work?
Pressure cookers, slow cookers and crock pots have been a kitchen mainstay for decades. Many households rely on them to prepare hearty meals without supervision or interference. The idea is simple: toss your ingredients in a pot, place the lid on top, seal it, choose a setting and the food will cook to perfection based on the selected function.
So, what exactly is The Instant Pot and what does it offer low carb eaters? Let's look at what features have made the Instant Pot popular, and explore some of the benefits to busy people who are looking to maintain a healthy diet. Additionally, we'll offer some delicious recipes that you should immediately include in your weekly meal plan.
What is the Instant Pot?
This kitchen appliance is categorized as a multi-cooker, and it offers impressive versatility. This machine provides similar functions to a slow cooker, rice cooker and steamer. There's no stove required and by replacing several appliances you save money and time in addition to counter and/or storage space.
You might have trouble believing that one appliance can cook a roast, steam rice and make yogurt but that's exactly what the Instant Pot does.
The different types of Instant Pots, include:
Instant Pot Max
Instant Pot Duo
Instant Pot Duo Plus
Instant Pot Nova
Instant Pot Nova Plus
Instant Pot Smart Bluetooth
Instant Pot Lux
Instant Pot Ultra
Any of these Instant Pots will let you make meals that you once considered to be too time consuming.
How Does it Work?
The Instant Pot is programmable with presets that vary based on the model. The basic programs, include:
Pressure cooking (high or low pressure)
Slow cooking
Rice cooking
Sauté/Browning
Yogurt mode
Warmer
Additional options include egg maker, cake maker and even sterilizer.
The Instant Pot is better than a slow cooker because it cooks food with an airtight seal. It has three major components: the outer pot, the inner pot and the lid. These three work in conjunction to not only cook but to enable rapid cooking times via high temperatures and high pressure. You can choose a setting or a built-in program (Soup/Broth, Bean/Chili, Porridge, etc.) via the control panel.
Each individual function works as expected. This means the pressure cooker function would work like a standard pressure cooker by boiling the water up to the appropriate temperature to cook food thoroughly and faster.
We recommend following the instructions for the specific function you are planning to use.
Features 
The Instant Pot is designed with features that make it easy-to-use and perform to a high standard. Some of the more notable features, include:
Dual pressure settings for flexible cooking
Durable stainless steel inner pot
Brushed stainless steel exterior
Dishwasher safe
1000 Watts
Capacity of 5.67 litres
Most come with steam rack with handles, recipe booklet, serving spoon, soup spoon and measuring cup
Furthermore, this appliance is safe, dependable and makes cooking more convenient.
Read some of the Instant Pot reviews for the 6-qt Instant Pot Duo.
Low Carb Instant Pot Recipes
The Instant Pot wasn't solely manufactured to cook low carb meals nor will it reduce an ingredient's carb count. What it does do is make it more fun to stay in and eat healthy meals by removing much of the labour and letting you use impressive cooking techniques that enhance flavour and texture.
Here are a couple low carb recipes to help break-in your new Instant Pot.
This hearty, rich meal is low carb and perfect for a fall or winter evening in with the family. It only takes 30 minutes to cook, and you can make enough for leftovers the next day.
Gather this list of ingredients: one yellow onion sliced and quartered, two garlic cloves crushed, two slices of bacon, 500g of stewing beef cubed, 1 tsp. of smoked paprika, 3 tbsp. of tomato paste, 250g of mushrooms quartered, 250 ml of beef stock and a dollop of sour cream.
Pour oil into the Instant Pot dish. Press the sauté function and add onion, garlic and bacon. Let everything fry until it is cooked. Be careful that the ingredients don't brown. Add the beef and let it cook until it browns all over. Next, add the elements that will season and inject flavour: mushrooms, paprika, beef broth and tomato paste. Give it a good stir then place the lid on top and make sure it is sealed.
Cook on high pressure for 30 minutes and then use the release valve so that the pressure from inside the pot can escape. Once it's plated, top with sour cream.
To keep it low carb you can serve this stroganoff on top of a bed of mashed cauliflower, pureed parsnips, or try with more traditional reduced carb fettucine noodles like the Carb Nada egg fettucine noodles.
This soup is great for most low carb diets and for people who love Mexican flavours.
There are quite a few ingredients but it's worth it to create that delicate balance. You need 1 lb. of chicken breasts, ½ cup of diced onion, 4 cloves of garlic minced, 1 tbsp. of chipotles in adobo sauce minced, 1 tbsp. of cumin, ½ tsp. of chili powder, ½ tsp. of paprika, ½ tsp. of salt, 2 tbsp. of lemon juice, 2 cups of chicken broth, 8 oz. of cream cheese and ½ cup of chopped cilantro.
To make, fill your Instant Pot with the chicken, onion, garlic, chipotles, cumin, chili powder, paprika, salt, lemon juice and chicken broth. Add the cover so that the seal is airtight and then cook on high pressure for 18 to 20 minutes. Let the pressure release naturally, this will take about 10 minutes, and then remove the lid. It's important to not remove the lid before it's ready.
Take the chicken breasts out of the pot and shred each one. Next, change the setting to sauté and introduce the cream cheese to the cooked ingredients. Whisk until it's melted and everything is thoroughly combined.
Turn the machine off. Add the chicken back to the pot along with the cilantro and then stir for 30 seconds to one minute, then serve immediately.
A frittata is an open-faced omelette or crustless quiche. The eggs provide the foundation, and you can add whatever ingredients and toppings you want. Double check that whatever is added does not increase the amount of carbs.
The ingredients list includes, 6 beaten eggs, ½ cup of fresh spinach chopped, ¼ cup of tomato diced, 1 tsp. of sea salt, 1 tsp. of minced onion, ½ tsp. garlic powder and ¼ tsp. of black pepper.
Because of the Instant Pot, making a frittata is super simple. Grease a baking pan that can comfortably rest inside the pot. Something made of springform or glass Pyrex should work. Combine all the ingredients in the pan and cover with foil.
Add one cup of water to the Instant Pot, and then place the pan with the combined ingredients inside. Secure the lid in the sealed position. On the display panel, select the MANUAL/PRESSURE COOK function and set it for 5 minutes.
Once it's finished, it needs to naturally release the pressure, a process that takes about 10 minutes. Turn the valve to the venting position and take the frittata out so that you can dig in right away!
Get Shopping!
The Instant Pot can change the way you cook and help you stay on the road to healthy eating and living. It's a wonderful tool to not only help you stick to a low carb diet but to also enjoy the process and to find meals you love.
Create unique, stove-free meals with your Instant Pot. You can purchase one at your local Canadian Tire, and stock up on low carb ingredients at The Low Carb Grocery.