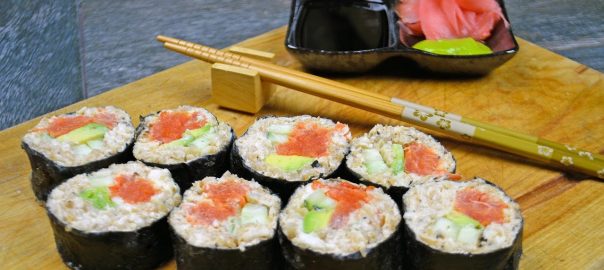 Make Low Carb and Keto Sushi at Home
Tips and Tricks for Making Low Carb and Keto Sushi at Home
Sushi is renowned for being a very healthy type of cuisine, and its popularity is increasing across Canada by leaps and bounds. For low carb dieters, sushi can be a fantastic addition to your meal plan, but many people are apprehensive about trying to make it at home since it is so different from typical North American cooking styles. In addition, there are a few things to consider about sushi when on the low carb diet, as there can be a much higher carb count in some varieties than you'd expect.
In this particular article, we will generally be speaking about maki sushi, which is also commonly known as a sushi roll and is usually the style of sushi most frequently seen on menus around the country. Here, we will be sharing the tips and tricks on how to make sure your sushi stays very low in carbs and tastes absolutely delicious.
While maki sushi can be made from a vast array of potential ingredients, there are some that are common to virtually all the different types of maki rolls. Most maki rolls start with a thin sheet of nori, which is made from a special type of Asian seaweed, which contains virtually no carbs at all. Most of the carb content in sushi will come from the rice, and from secondary ingredients such as the sugar found in teriyaki sauce, for example.
Substituting the ingredients in sushi that contain carbs involves finding alternatives to the rice, and low-sugar or sugar-free options for any sauces or marinades that you intend to use. The recipes below have everything you need to know to make low carb sushi, but if all you need is a rice substitute, check out this method for making low carb sushi rice from a simple set of ingredients and cauliflower. If your recipe calls for a common Asian sauce like teriyaki or hoisin, be sure to look for products that better suit the low carb diet to help keep the sugar to a minimum.
Tools You'll Need to Make Sushi
There are actually very few things that you'll need to make your sushi at home. With only a few tools, you'll be all ready to begin. The first thing you'll need is a sushi mat, which is what is used to roll the sushi up in to the familiar maki style before it is cut in to individual pieces. Sushi mats are traditionally made from bamboo, but other materials that are flexible and non-stick are also available.
The other common tool that is used to help prepare sushi is a wide, flat paddle to spread the ingredients in to thin layers of even thickness. Again, the traditional and most popular material for these paddles is bamboo, but like sushi mats, can also be made from other common non-stick kitchen materials.
To get setup, we recommend this bamboo sushi mat and paddle set from Helen's Asian Kitchen. It has a classic style, just like the ones used at authentic sushi restaurants.
If you already have a suitable paddle, and just need a mat, here's a top-quality silicone sushi mat from Lékué. The silicone is hygienic, non-stick, dishwasher-safe and will last a very long time.
Now that you've got the gear you need and have a good idea on how to keep things low in carbs, let's move on to some delicious keto friendly sushi recipes!
This recipe is a great place to start for sushi beginners, and it covers all the essentials from start to finish, including making their own variation of cauliflower sushi rice. The end result is a tasty low carb and keto friendly California roll with fresh salmon, firm avocado, and crisp cucumbers. A little cream cheese adds a bit of extra flavour to this recipe.
For even more help on making this version of low carb keto sushi, here's the how-to video from Ruled.me that guides you through this recipe step-by-step.
No-Rice Keto & Low Carb Sushi Rolls
This unique variation on sushi actually does away with the rice component entirely, focusing instead on the fresh taste of the vegetables and the wonderful flavour of smoked salmon. This recipe for no-rice sushi rolls is perfect for making in smaller quantities when all you want is a fresh and healthy snack. Plus, since it's smoked salmon instead of fresh, anyone who has an aversion to the idea of raw fish will be happy with this option.
Conclusion
If you have been missing sushi since you started your low carb diet because of the rice component, then worry no more because sushi is back on the menu! As you can see, making sushi the low carb and keto way is really not all that complicated. With the right tools and a little bit of practice, you'll be rolling up your maki just like the experts.
Sushi is a great type of cuisine for those of us who like to experiment with different combinations of ingredients, searching for our own special discovery of new flavours. Don't be afraid to try swapping in different vegetables, sauces, or other ingredients. You never know when you'll stumble on to the next great taste!