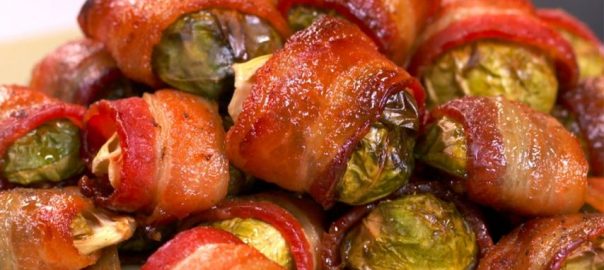 Low Carb Hors D'oeuvres & Appetizers for the Holidays
Low Carb Fun & Fancy Holiday Party Appetizers & Hors D'oeuvres
The holiday party season is quickly approaching, and this year we encourage you to surprise your guests with a new selection of appetizers and hors d'oeuvres that will delight them with exciting flavours and vibrant colours. In this list, you'll discover an interesting variety of delicious low carb recipes that your family and friends are sure to love.
Putting on a great holiday party doesn't mean that you need to set your low carb diet off track or put it on hold for the night. In fact, as we've talked about before in our previous article about crafting a wonderful low carb Christmas dinner, these recipes are even better than some of the more traditional ones that you all know and love.
Let's get right to it with a delectable dish that is at the top of the list for amazing low carb appetizers!
Bacon Wrapped Brussels Sprouts
Bacon makes everything better! This creative recipe combines the salty deliciousness of bacon and wraps it around the robust flavour of roasted Brussels sprouts to create some of the yummiest morsels ever to adorn the end of a toothpick. When dipped in the tasty balsamic mayo dip that is included in this recipe, the flavours get even better. You'd better make a big batch of these, because they won't last long once they hit the table!
Low Carb Christmas Tree Platter
If you're looking to add some colour to your holiday appetizer table this year, this fun hors d'oeuvres recipe is sure to fit the bill. Bright greens and deep reds abound in this clever creation that tastes just as good as it looks. Low carb cranberry sauce gives a nice sweetness to these rolls, and accentuate the taste of the turkey and cream cheese nicely. Half the fun of this recipe is arranging the stack before you serve it, especially if you top the final result with a cute little cheese star to finish the look.
We just LOVE charcuterie boards, and this recipe is no exception. This combination includes low carb crackers and some crisps made from cheese and almond flour, as well as a diverse selection of flavourful cheeses and delicious meats. Of course, the best part of a charcuterie plate is that you can change it up in any way you want, so feel free to swap out any of the meats, cheeses, or other items for whatever may strike your fancy. Get creative! Charcuterie boards never need to be the same twice.
Ok, so this one is technically not an appetizer or an hors d'oeuvres, but once we found it we just had to include it in this list. Fancy and creative martinis are always a lot of fun to try, and this holiday-themed drink is a great way to put your guests in a festive mood. For larger get-togethers, you can even make this drink in batches and serve in a punch bowl so guests can serve themselves throughout the evening. With one of these in-hand, you'll definitely be feeling cheery!
Easy Shrimp Cocktail with Creamy Sriracha Cocktail Sauce
Who doesn't love the delicious taste of a good shrimp cocktail? They're amazing low carb appetizers, and you can get creative with them by changing up the sauce you use to dip them in. In this particular recipe, the traditional cocktail sauce has been swapped out for a creamy sauce that has a nice spicy zing to it. We love hot sauce, so it's no surprise that this recipe is quickly becoming our favourite way to make a shrimp cocktail.
We just had to close out this list with a modern twist on a festive classic. Also known as a Buche de Noel, the Yule log cake has been a favourite holiday treat for generations. Of course, what's not to love about moist chocolate cake wrapped up with a creamy and smooth whipped filling? This low carb version makes it so you can still enjoy this traditional holiday dessert without setting your diet off-track. In less than an hour, you can have this gorgeous dessert ready to serve, and finish off your holiday meal in style.
Surprise & Delight Your Friends & Family This Season
When your guests arrive to celebrate the holidays this year, we're sure that this selection of holiday treats will help you set a cheery mood for your party right from the start.
The holidays are a time to enjoy time with friends and family and enjoy good food and delicious drinks while you reminisce about years past and look forward to those yet to come. Happy holidays to all!