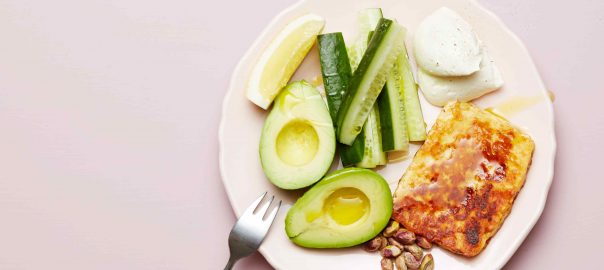 Keto Recipes in 20 Minutes or Less
6 Fast and Easy Keto Diet Recipes in 20 Minutes or Less
We've already talked about how the keto diet has very specific criteria that need to be followed, in our recent article here. Since following these details are critical to success on the keto diet, it also helps to have a broad range of recipes that you can choose from when you are putting together your meal plan for the week. That's why we've put together this list of great keto recipes that are fast and easy to prepare, and can be ready in 20 minutes or less. Here, you'll find suggestions for delicious keto-friendly recipes for breakfast, lunch, and dinner, that suit a wide array of tastes and cooking styles.
When going keto, many people find that it can be hard to work in enough variety in to their meal plans, especially with busy schedules and time being in short supply. While it is easy to come up with basic food combos that meet the requirements for keto, it can get repetitive if you just stick to the same old things every week. We hope that with this list of 6 great-tasting keto-friendly recipes you can change up your routine and work in some exciting new flavours for your next meal plan that won't take you hours to prepare.
Easy Keto Breakfast Recipes
Let's get started with a couple of delicious keto breakfast recipes that you can try!
Let's start things off with something truly unusual for your next breakfast menu. This flavourful egg dish comes from Morocco, and utilizes a unique blend of fresh herbs such as thyme, cilantro, and parsley sautéed in savoury garlic butter. Add in some farm-fresh eggs, along with some cumin and cayenne to give it a spicy kick, and you've got a hearty breakfast full of robust flavours. Boost the protein of this meal with a side of sausages or bacon, and even the hungriest of us will be completely satisfied with this breakfast. Dig in!
Bacon and Zucchini Eggs in a Nest
This recipe comes from Melissa at IBreatheImHungry.com, as she experimented with one of her favourite childhood recipes in search of a low carb and keto-friendly alternative version. This is a fun way to prepare and serve eggs and bacon along with a hearty serving of vegetables, and it looks just as good as it tastes. The saltiness of the bacon, the crispy bottom that forms on the base of the zucchini, and the flavour of the Asiago cheese all combine to create a delicious breakfast that will definitely leave your whole family full and happy.
Quick Keto Lunch Recipes
Now that breakfast is taken care of, let's explore a few incredible lunch recipes that are sure to pique your interest!
With a name that includes 'Ultimate', you can be sure that these will be good! This recipe for delicious keto beef burgers also includes a recipe to make some buns from scratch, but you could save even more time by going with a pack of Smartbuns. These burgers go great with any of your favourite keto toppings, but this recipe also includes some suggestions for toppings along with recipes, such as Sriracha chili sauce or Russian slaw. Whatever you decide to top these burgers with, you can be sure they won't last long on your plate.
LCHF (low carbohydrate high fat) is the name of the game when it comes to the keto diet, and this salad definitely delivers on that. This recipe starts with a fresh batch of leafy greens, such as kale and spinach, and piles on the protein with loads of chicken, cheese, anchovies, parmesan and mayonnaise. For an added twist of flavour, the chef suggests to season the chicken with paprika or whatever your favourite seasoning might be. We bet that this would work really well with some kind of Mediterranean chicken seasoning.
Fast Keto Dinner Recipes
It's time to move on to the dinner menu with these fantastic meal ideas that are definitely going to end up on your list of favourites!
Turkey Vegetable Pesto Bolognese
With a name like pesto Bolognese, you'd never expect this recipe to be ready so fast! This recipe makes excellent use of just a few key ingredients to produce a delectable pasta dish that is both light and filling. If you're in an even bigger hurry to get dinner on the table, you can save time by using a prepared low carb pesto mix, like this Pesto from Mayacamas.
Pair this dish with your favourite Miracle Noodles, Shirakiku, Shirataki and other low carb noodles, and you've got an extremely healthy low carb and keto friendly meal that's loaded with protein and tasty vegetables like zucchini, mushrooms and onions. Simply delicious!
Chicken in Creamy Green Onion Sauce
Here's a recipe that is definitely not your every-day kind of chicken. Fortunately, it's also deceptively simple to make, so don't worry about it taking hours to prepare.
This savoury chicken dish combines the fresh taste of green onions with a rich and creamy sauce that drenches the chicken in comforting flavours. Serve with a side of your favourite vegetables, or pair it with a salad full of crisp greens, depending on your preference.
Conclusion
We hope that this selection of healthy recipes has added some excitement to your next keto meal plan. It's definitely plain to see that just because you need keto-friendly meals that doesn't mean that they need to be repetitive, complicated, or boring.
With recipes like this in the rotation, you'll save time and not have to compromise on making dinners full of great flavours that will consistently satisfy your whole family. Happy eating!