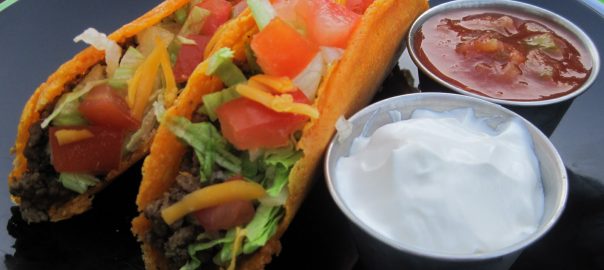 Taco Tuesday's the Low Carb Way – Taco Recipes
Make Taco Tuesday the Best Day of the Week with these Amazing Low Carb Recipes
If you're a big fan of Mexican cuisine, but you're also living the low carb lifestyle, you know how hard it can be to find great low carb recipes that meet your needs and still deliver the flavours you crave. Well, we've got great news for you because we've found 5 incredible recipes that are going to make Taco Tuesday a weekly tradition in your house, and still keep the carb counts nice and low.
Taco Tuesday has become more and more popular recently, with many households adopting it as a fun part of their weekly meal routine. Of course, it's not hard to see why. Tacos are delicious and their build-it-yourself style is a lot of fun for the entire family. Everyone can dress their tacos however they want, making them a big hit for adults and kids alike.
In this list, we've got brilliant recipes for low-carb tacos and taco shells that you're going to absolutely love. In addition, we've also got a few fantastic recipes for other types of delicious Mexican-inspired meals you can serve up to a hungry family on Taco Tuesday.
Let's kick things off with a clever way to make your own low carb taco shells at home.
It should come as no surprise that the taco shells themselves are what contributes most of the carbs in a typical taco meal. Fortunately, there are many different ways you can swap out your taco shells for something that's lower in carbs, but one of the most brilliant ways we've found is this recipe for crispy cheese taco shells.
You'll be amazed at how easy it is to make low carb, gluten-free and keto-friendly taco shells using nothing but shredded cheese. This recipe is amazingly simple and ready in just 25 minutes.
Fill these crispy cheese shells with your favourite ingredients like seasoned beef, shredded lettuce, tomatoes, salsa, sour cream, jalapenos, onions, and whatever else strikes your fancy. Just don't forget the guacamole!
For a different spin on Taco Tuesday, give this hearty skillet dish a try. It's loaded with cheese, beef, and tons of vegetables that are so yummy it disappears from dinner plates almost as fast as you can serve it up. Ready in just 20 minutes, this meal is easy to make and has all the zesty flavours that you're craving. You can also make all kinds of changes, substitutions, and additions to this recipe to change things up even more or suit different tastes. This is one dish where you can really get creative.
We love simple meals that can be thrown together quick and tossed in the oven for an easy dinner that warms you up at the same time it fills you up. This delicious casserole definitely fits that description, and it's amazingly healthy to boot. Packed with vegetables, seasoned beef, and zesty flavours, this is a perfect meal for a busy weeknight and can be ready and on the table in less than an hour.
We're going to bring things back around to taco shells again, because this fantastic recipe is one that you're going to want to keep close at hand and share with everyone. These tasty, crispy taco shells are a perfect fit for all kinds of dietary needs, including keto, low carb, dairy-free, and gluten-free. Aside from being the perfect container for all your favourite taco fillings, you can also use this same recipe to make crispy tortilla chips that are perfect for dipping.
Closing out this list is a recipe that is sure to become a family favourite! This low carb taco pie is incredibly easy to make and uses common ingredients that you probably already have in your kitchen today. Kids love it, adults devour it, and you can easily make more than one to freeze and have ready for an emergency dinner when time is short and hungers are big. You can also top your slice of taco pie just the same as you would a regular taco, with a dollop of sour cream, some spicy salsa, hot sauce, or a generous helping of guac.
Essential Low Carb Taco Supplies
For an even easier Taco Tuesday, there are plenty of ready-made products that you can pick up tonight and have a healthy, low carb meal on the table in no time. First, grab a pack of Mama Lupe's low carb tortilla shells to stuff with your favourite fillings. Get some beef frying and add a pack of Mayacamas taco seasoning to bring the right flavours to the meal. After you've chopped up your vegetable toppings and shredded some cheese, make a batch of fresh guacamole with this Simply Organic guacamole mix, and you're ready to ring the dinner bell.
Make Taco Tuesday Your New Weekly Tradition
Give your entire family something to look forward to at the start of the week with a creative meal that's easy to make and brings big flavours to the table each and every Tuesday. Of course, we all know that tacos are great any time, so we hope that you and your family enjoy this collection of tasty low carb creations. Enjoy, and happy eating!
Be sure to check out all the recipe related posts in the cooking low carb section of our blog.