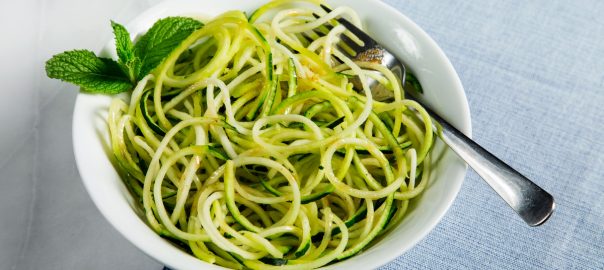 Zoodles – Low Carb Noodles – Recipes & More
All About Zoodles: What are they and how do you use them?
Pasta lovers, we have some great news for you! If you've never heard of zoodles before, prepare to be surprised. Made entirely from zucchini, zoodles are the perfect low carb noodle alternative that can be used in virtually any pasta dish that you can imagine. In this article, we'll explain some of the different ways you can make zoodles, as well as provide a couple of delicious recipe ideas to try.
As we've discussed in our previous article, Tips for Making Delicious Pasta Meals the Low Carb Way, there's no reason that low carb dieters need to avoid pasta as part of their meal plans. There are plenty of options available for low carb noodles, but with zoodles you also get the benefits of a pile of nutrient-rich vegetables as well.
How to Make Zoodles
There are three basic methods that are commonly used to make zucchini noodles. First, you can simply use a standard vegetable peeler to create long, flat strips of fresh zucchini noodles. While this may work fine at producing a nice pile of zoodles, it's definitely not the fastest method, especially when you need to prepare a larger meal. To create a lot of zoodles in less time, you can use a kitchen mandolin to speed up the process. In addition, since mandolins allow you to adjust the thickness, you can customize your style of zoodles much easier than with a hand-held peeler.
The third common method of making zoodles is to use a spiralizer. Here's a great article from Foodal.com that reviews 5 fantastic kitchen spiralizers, and outlines the different accessories that allow you to create multiple styles of spiraled vegetables. Using a spiralizer produces a much longer zoodle if you want a more 'spaghetti' style format to use for your pasta meal. Regardless of what tool you use to create your zoodles, they will all taste the same, so it really comes down to your personal preference.
How to Cook Zoodles
Once you have your zoodles ready, there are a few different ways you can cook them depending on the type of recipe you will be using them in, or how you prefer them to taste. Here are the most common ways to prepare zoodles for a wide variety of meal types and recipe styles.
Raw Zoodles
Sometimes, the best way to cook your zoodles is to not cook them at all! Fresh, raw zucchini noodles are crisp and delicious, and are a fantastic way to make cold pasta salads in a new and exciting way with very few carbs and lots of flavour. You can also top cold zoodles with any of your favourite hot pasta sauces for a different kind of pasta experience.
Fried or Sautéed Zoodles
Frying or sautéing your zoodles is a great way to prepare them, and allows you to add extra seasoning or flavour in the form of oils, such as olive oil or avocado oil, and a sprinkle of salt or vegetable seasoning. The key to preparing zoodles this way is to keep the time short. If they are heated for too long, they become mushy, so pay close attention to the zoodles as they cook, which usually only takes about 2 minutes.
Boiled Zoodles
Another way to prepare your zoodles is to boil them just like any other type of noodle. Just like frying and sautéing, you'll want to keep the time very short to avoid ending up with a pile of mush. Really, all you're doing is heating them up, so all you need is about one minute of time in boiling water. Then, simply drain and serve as you normally would.
Delicious Recipes Using Zoodles
Now that you're a zoodle expert, we thought we'd share a couple of tasty recipes that you can use to try out your skills. These healthy zoodle creations are easy to make and taste absolutely delicious. Give them a try as part of your next meal plan!
Zucchini Noodles with Mini Chicken Feta and Spinach Meatballs
Wow! This recipe is an amazing mix of flavours and textures that is a real culinary adventure. Jessica at HowSweetEats.com hit it out of the park with this creation, which is an absolutely perfect example of how zoodles can work to create a truly unique and tasty low carb meal. It's loaded with protein, vegetables, and big flavours.
Spicy Sesame Zoodles with Crispy Tofu
If you're a lover of all things spicy, then Lindsay over at PinchOfYum.com has created a recipe that is sure to bring the heat! This delectable zoodle recipe combines a thick and spicy sesame peanut sauce with crunchy raw zoodles to create a marriage of opposites that works amazingly well. The addition of crispy fried tofu further adds to the experience and keeps the carb count low.
Conclusion
Well, there you have it! Next time you cook up some of your favourite pasta sauce, or are looking for a new twist to put with an Asian stir fry, give zoodles a try. It's a simple and easy way to incorporate more vegetables in to your pasta meals, and cut out even more carbs. We're sure that you'll love using zoodles in all kinds of creative low carb recipes. We hope you found this article helpful!