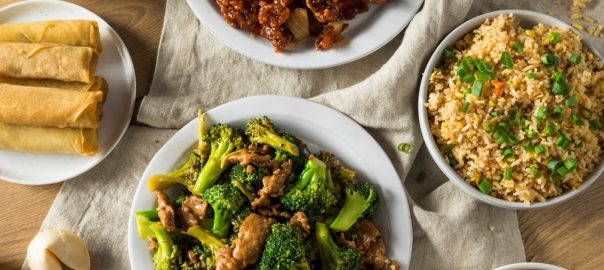 Recipe Ideas for Keto & Low Carb Chinese Foods
Keto and Low Carb Chinese Food Recipes
Ditch sugary take-out and explore the colourful and tasty world of Chinese cuisine that you can make right at home with these low carb and keto-friendly recipes.
Chinese take-out is a favourite Friday or Saturday night dinner choice for many families. Chinese restaurants offer a wide variety of choices and flavours that just aren't found in standard American cuisine. However, many popular Chinese dishes include rice or noodles and sugar-laden sauces which can be hard for low carb dieters to navigate around.
The Low Carb Grocery and the brands we carry have a shared goal in mind: we want our customers to be successful in their health and weight loss goals without having to sacrifice the foods they love! That's why we have gathered a list of our favourite low carb and keto-friendly Chinese food recipes that you can make at home so you can control exactly what goes into your meals while still enjoying the wonderful flavours and aromas of Chinese cuisine. These recipes are not only low carb and keto compliant, but they are also simple to make with just a few ingredients that you can find on our shelves or may already have on hand.
Keto Egg Rolls with Coconut Wraps
Egg rolls are a classic starter dish at any Chinese American restaurant! So, start off your homemade Chinese-inspired meal the same way with these low carb and keto-friendly egg rolls made with coconut wraps. We found this recipe online that features Nuco Coconut Wraps made from 100% coconut. Now, on to some recipe ideas for low carb and keto-friendly Chinese lunch and dinner foods…
Baked Keto Sesame Chicken
Sesame chicken from Chinese American restaurants is typically breaded with flour and then deep fried, which definitely does not make it a diet-friendly choice. However, you can make your own keto-friendly sesame chicken by using almond flour for the breading and baking it instead of frying it to make a healthier, lower carb dish.
Ingredients for the chicken (2 servings):
Ingredients for the sesame sauce:
To make your Baked Keto Sesame Chicken, follow these steps:
Whisk the egg in a small bowl and set aside. In another shallow bowl or plate combine the almond flour, garlic powder, salt and pepper to make the breading.
Cut the chicken thighs into bite sized pieces. Dip them into the egg mixture, then coat them in the breading mixture.
Place the breaded chicken pieces on a sheet pan lined with parchment paper and bake at 350f for about 30 minutes, or until the internal temperature reaches 165f.
When there is about 10 minutes left for the chicken, prepare the sauce. Combine all of the ingredients listed above in a small bowl and whisk together.
Heat a saucepan over medium heat. Once heated, add the sauce mixture and reduce the heat. Let the sauce simmer for about 5 minutes, or until it has reached your desired thickness.
Once the chicken is finished in the oven, transfer the pieces to the saucepan to coat them in the sauce. Remove from the pan serve hot!
Serve Baked Keto Sesame Chicken over a bed of cauliflower rice or zucchini noodles, with a side of steamed broccoli, or nestled into crunchy lettuce wraps. Optional garnishes include chopped green onions, more sesame seeds or even a little orange zest for additional flavour!
Low Carb Fried Rice
There are a few options for low carb and keto-friendly rice substitutes in this recipe. Riced cauliflower is a great choice; it has just 5g of net carbs per 1 cup serving and is also a great source of fibre, vitamins and minerals. It has a similar appearance and texture as traditional rice but feels a bit lighter. The Low Carb Grocery also carries a variety of rice substitutes made from konjac root fibre, which is low in carbohydrates and calories. Browse options such as Miracle Noodle rice substitute (organic option also available) and Better Than Foods konjac rice (organic option also available).
The rest of the ingredients you'll need for this dish are as follows (makes 1 serving):
Follow these steps to prepare your Low Carb Fried Rice:
Heat a large non-stick pan on medium heat. Add chopped vegetables to the pan with a few splashes of water and cook until they are tender. Remove from the pan and set aside.
Turn heat down slightly and add oil, garlic, and green onions to the pan, stirring frequently just until the garlic and onions turn golden brown.
Add your rice substitute to the pan and mix everything together for 1-2 minutes. Add the soy sauce or coconut aminos and stir until the rice is coated.
Push the rice mixture to the sides of the pan, creating a well in the centre.
Add the whisked eggs to the middle of the pan and cook until they are no longer runny.
Add your cooked vegetables back to the pan and mix everything together.
Serve and garnish with freshly sliced green onions and red chilli flakes.
This recipe is so simple and can be ready in mere minutes! Not only are you getting fibre from the veggies and protein from the eggs, but the garlic, green onions and soy sauce/coconut aminos provide the perfect amount of flavour. If you want to boost the fat content of this recipe to make it more keto-friendly, you can serve with sliced avocado on the side or sprinkle crushed nuts over top.
Keto Moo Shu Pork
Moo Shu Pork is a staple in Chinese American cuisine and can be found on the menus of just about any Chinese restaurant. Traditionally, this dish consists of sliced pork tenderloin, cucumber, wood ear mushrooms and scrambled eggs stir-fried together in peanut oil or lard. Some Americanized versions have modified the ingredients to include more commonly found vegetables such as cabbage, carrots, bell peppers, bok choy, snow peas, bean sprouts and different varieties of mushrooms. Most of these substitutions are compliant with low carb or ketogenic diets, but you'll want to limit your use of higher carb vegetables such as carrots and bell peppers.
Below you'll find our recipe for Keto-Friendly Moo Shu Pork, which includes cabbage and mushrooms, these being some of the lowest carb vegetables. Note that we have also substituted peanut oil for coconut oil, which contains more beneficial fats and is more suitable for high heat cooking. Learn more about the best low carb oils for cooking.
Ingredients for Keto Moo Shu Pork (2-3 servings):
Cooking steps:
Make the marinade for the pork. Combine soy sauce/coconut aminos, sesame oil, garlic, ginger and Chinese five spice in a medium size bowl. Coat the sliced pork and set aside for about 20 minutes.
Beat eggs in a small bowl.
Heat a large non-stick pan over medium heat. Add one tablespoon of coconut oil as well as the beaten egg. Tilt the pan to distribute the egg evenly and let it cook like a thin omelet for 2-3 minutes. Remove carefully and transfer to a cutting board. Once cooled, slice the omelet into thin strips the same size as the pork pieces. (note: this will yield thin, crispy eggs. You could also make scrambled eggs, but the texture will be a bit different).
Increase the heat to medium-high heat. Add one tablespoon of coconut oil, freshly chopped mushrooms, cabbage slaw and green onions (reserve some for garnish) to the pan and cook until the vegetables are tender with a few golden spots. Remove from pan and set aside.
Add another tablespoon of coconut oil to the pan along with the marinated pork and cook for about 4-5 minutes until just cooked through.
Turn the heat down to low and add everything back to the pan. Cook for a final 3-4 minutes to combine everything together.
Serve and garnish with remaining green onions.
You can enjoy this Moo Shu Pork on its own, with a side of low carb rice, or even with lettuce wraps! And, if it fits into your carb allowance for the day, serve sweet and salty Edward & Sons organic gluten-free hoisin sauce on the side for dipping, which has 3g of net carbs per tablespoon.
General Tso Low Carb Tofu
This healthier take on the classic spicy-sweet Chinese take-out dish is perfect if you're looking to incorporate more tasty vegan or vegetarian recipes into your diet. Tofu is low in carbohydrates and is a complete protein, meaning it contains all 9 essential amino acids. It also doesn't contain much fat – but don't worry if you're following a ketogenic diet, there are still ways to meet your required fat intake while enjoying this meal! Add avocado on the side, drizzle with extra sesame oil, or garnish with crushed nuts.
The ingredients you'll need to marinate and cook the tofu are as follows (makes 2-3 servings):
For the General Tso flavouring, you'll also need the following ingredients:
To make your General Tso Tofu, follow these steps:
The night before, or at least 2-3 hours before, cube and marinate your tofu in a mixture of soy sauce/coconut aminos, apple cider vinegar, garlic, ginger, salt, and white pepper.
Heat a pan over medium heat and add ½ tablespoon of coconut oil. Add the marinated tofu to the pan and cook until crispy on a few sides (2-3 minutes each side). Set aside once cooked.
Prepare the General Tso Sauce by combining vegetable broth, apple cider vinegar, soy sauce/coconut aminos, brown sugar substitute, xanthan gum and red chili pepper flakes in a bowl. Add the sauce to the pan and reduce the heat slightly. Let the sauce simmer for about 10 minutes, stirring frequently.
Add the tofu back to the pan along with fresh chili peppers (optional) and green onions. Stir everything together for 3-4 more minutes.
Serve hot and garnish with sesame seeds.
You can also add any other vegetables you like (broccoli, bok choy, mushrooms and bell peppers are all good choices) to the pan to complete this dish. Just be sure to add the vegetables to the pan before the tofu, as they will take more time to cook through. You can enjoy this dish on its own or serve it with a low carb rice substitute, cauliflower rice or low carb shirataki noodles.
Stay Connected
We hope that you gained some inspiration from this article and are excited to start experimenting in the kitchen with Chinese flavours! If you try any of these recipes, be sure to tag us and share your thoughts with our low carb community on Facebook or Instagram.
Please also consider leaving us your thoughts with a Google Review, and remember to sign up to The Low Carb Grocery's email newsletter for the most up to date information on Keto and Low Carb news + early access to our weekly flyers and sales.