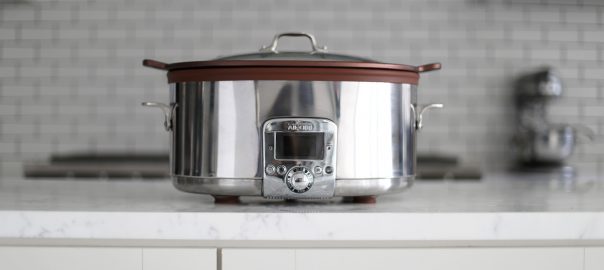 Easy Keto Slow Cooker Meals
Incredible Keto Slow Cooker Recipes
A slow cooker is an essential part of any kitchen. Whether you're cooking for yourself or a family of four, there's nothing better than coming home to a hot, tender and flavourful meal.
If you're adhering to a keto diet, then a slow cooker becomes an even more powerful tool at your disposal. It allows you to effectively meal plan, reduces the effort needed to create complex meals and offers some delicious and protein-forward options. All you need are the right keto ingredients and recipes.
Let's introduce you to a variety of delicious slow cooker recipes. These feature different proteins and flavour profiles and are all keto-friendly.
Recipes
These recipes fit into most carb restrictive diets. We've made some adjustments to further reduce the number of carbs without sacrificing flavour. Some ingredients can be swapped with something else, while others can just be skipped, have some fun with this and get creative with whatever your taste buds (and carb restrictions), prefer.
This is a hunter-style Italian meal that is quite hearty. It is typically made with chicken but you can substitute that with rabbit if you prefer a gamier protein.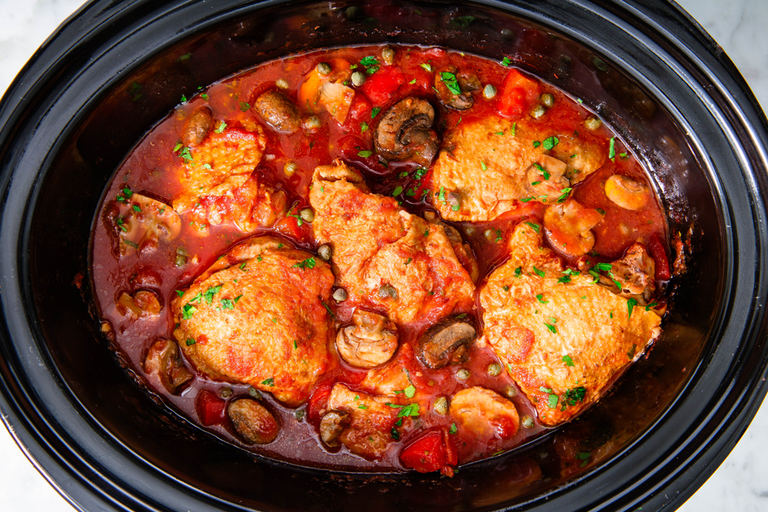 Source: PARKER FEIERBACH
Gather these ingredients: 2 lb. of skin-on and bone-in chicken thighs, kosher salt, black pepper, 8 oz. of baby bella mushrooms sliced, two garlic cloves minced, 28 oz. of crushed tomatoes, ½ cup of chicken broth, 1 tsp. of dried oregano, ¼ tsp. of red pepper flakes, 1/3 cup of capers and 8 oz. of cooked linguine.
Because this is a slow cooker recipe, there are only a few simple steps. To start, season the chicken with salt and pepper and put it in the slow cooker. Then add the peppers, mushrooms, garlic, tomatoes and top with the broth.
Season everything inside the slow cooker with oregano, red pepper flakes, salt and pepper. Lastly, cover and cook on low for 3 to 4 hours. The meal is ready once the chicken is cooked through.
Before serving, remove the chicken and let it rest on a cutting board or plate. Toss the capers into the sauce and give it a good stir.
Skip the linguine, if you're sticking to a keto compliant diet.
This recipe is protein-forward and lets you enjoy tender beef and Asian flavours.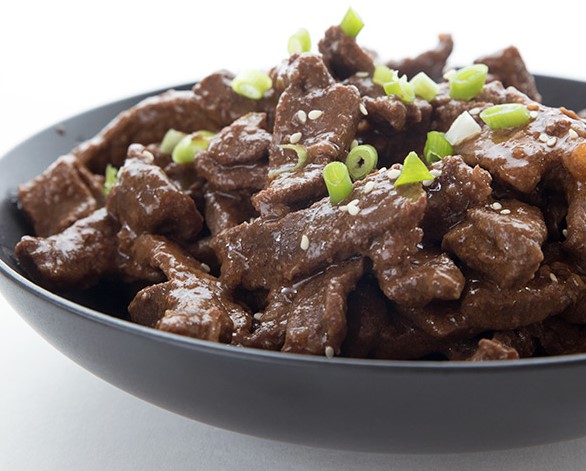 Source: alldayidreamaboutfood.com
You will need 1 ½ lb. of flank steak, 1/3 cup of Swerve Brown Sugar, ¼ cup of water, ¼ cup of tamari or soy sauce, 2 tbsp. of sesame oil, two garlic cloves minced, ½ tsp. of ground ginger, ¼ tsp. of red pepper flakes and ¼ tsp. of xanthan gum. For garnish, you will need two green onions chopped and sesame seeds.
Prepare the beef by cutting it against the grain as thin as possible. A good tip is to slice the beef while it's still a bit frozen. Next, place the beef in the slow cooker. In a bowl, whisk together the Swerve, water, tamari or soy sauce, sesame oil, garlic, ginger and the red pepper flakes. Add it to the slow cooker and give it a stir so that the beef is coated. Cook on low for 4 to 6 hours or on high for 2 to 3 hours.
Once the beef is cooked, remove a couple teaspoons of the broth into a bowl. Whisk in the xanthan gum to create a slurry, then pour it back into the slow cooker and give it a stir to ensure everything is incorporated.
Garnish with the green onions and sesame seeds and serve over some cauliflower rice.
This classic French dish is always a crowd-pleaser with its succulent mix of beef and vegetables in a rich wine gravy.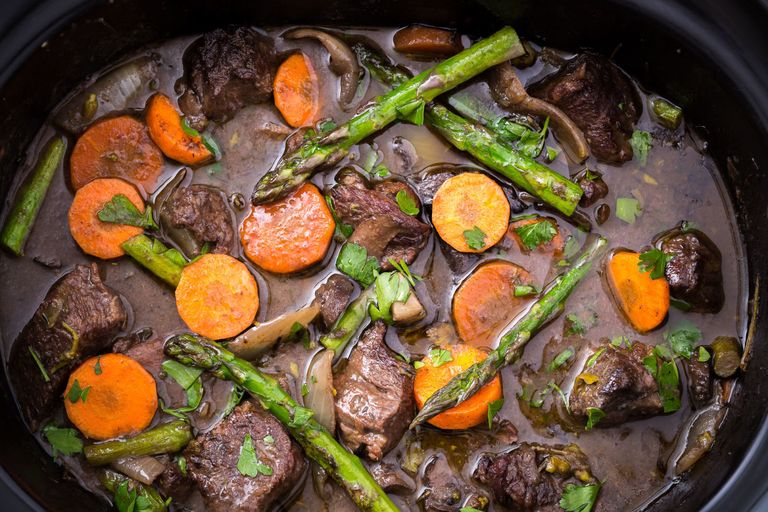 Source: ETHAN CALABRESE
To make, you will need 4 lb. of beef chuck cubed, 3 tbsp. of extra virgin olive oil, 1 cup of red wine, 1 cup of beef broth, 2 cups of sliced mushrooms, two garlic cloves, three sprigs of fresh thyme, three sprigs of fresh rosemary, as much asparagus as you want and fresh parsley for garnish.
This recipe does involve some cooking prior to using the slow cooker. Heat a large skillet over medium-high heat. Once it's ready, add the oil and sear the beef on all sides. It should take 3 minutes per side, and you will want to complete this stage in three batches. Between each batch, deglaze the pan with some red wine, reserving the rest, and scrapping all those flavourful bits off the bottom with a wooden spatula. Add the beef and its drippings to the slow cooker.
Pour the broth into the slow cooker and then add the mushrooms, garlic, thyme, rosemary and the remaining red wine. Cook on high for 6-7 hours. It's ready once the beef can be shredded with a fork. About 30 minutes before serving, take out the herbs and add the asparagus. Cook until the asparagus is soft.
Top with parsley and dig in!
For pescatarians or people who like to mix fish into their low carb meal plans, this is one slow cooker recipe to check out.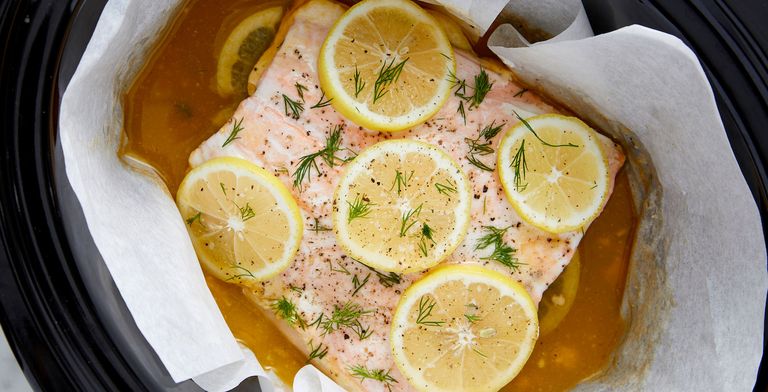 Source: Delish.com
The ingredients list is simple. Gather 1-2 lb. of skin-on salmon fillet, kosher salt, freshly ground pepper, one lemon cut into rounds, juice of ½ a lemon and 1 ½ cup of low-sodium vegetable broth. For garnish, all you need is 2 tbsp. of fresh dill.
Line the inside of the slow cooker pot with parchment paper. Lay the lemon slices on the bottom and then gently place the salmon on top. Season with salt and pepper and then add the broth and lemon juice. Don't worry if it looks like you added too much liquid as the pot should be half full. Top with more lemons and cook on low for 2 hours. The salmon should be flaky by the time it is done cooking.
Pork carnitas can be served as tacos or on top of a salad. You can also make it the star of quesadillas, enchiladas, tamales or simply serve it over low carb vegetables. You can choose from a variety of keto-friendly tortillas, including one from Maria and Ricardo.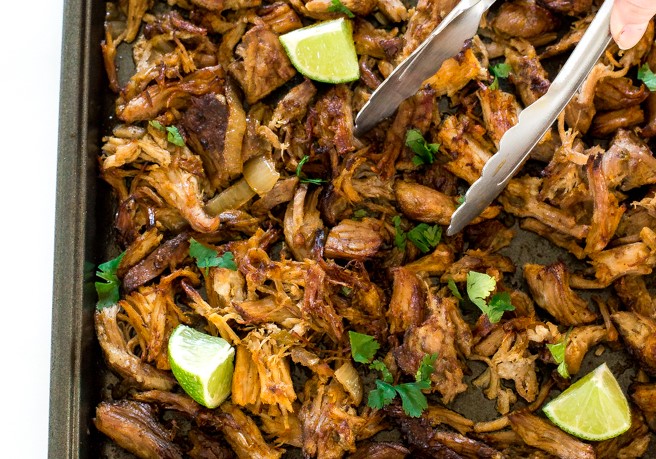 Source: chefsavvy.com
The ingredients include 1 tbsp. of olive oil, one 4-5 lb. pork shoulder trimmed, one lime juiced, five garlic cloves minced, one 4 oz. can of diced green chiles, 1 cup of chicken broth, three bay leaves, 1 tbsp. of chipotle chili powder, 1 tsp. of pepper, 1 tsp. of salt, 1 tsp. of chili powder, 2 tsp. of cumin, 2 tsp. of oregano and cilantro for garnish.
Heat the olive oil in a pan over high heat. Toss in the pork and cook for 2 minutes per side until it is completely seared. Scoop the pork into the slow cooker. Next, add all the other ingredients on top of the pork and cook on low for 8 hours or on high for 4-5 hours. The dish will be done once the pork is fork tender.
Remove the bay leaves and then the meat and shred it on a cutting board. Make sure you don't throw away the liquid. Prepare a baking sheet and lay the shredded pork on top and broil for 5 minutes. This will give it a crispy texture.
Once it's out of the oven, pour ¼ cup of the liquid from the slow cooker on top of the pork and mix it so that the meat is coated. Put the tray back in the oven and broil for another 5 minutes. The meat should be extra crispy and juicy at this point. Before serving, pour another ¼ cup of liquid on the pork and top with cilantro.
You can save the leftovers in an airtight container in your refrigerator for up to three days.
Buy Keto Compliant Foods Online
Check out our inventory of low carb foods to find the best ingredients for your low carb meals. We carry tons of sauces, seasonings and pastas to make your lunches and dinners memorable.