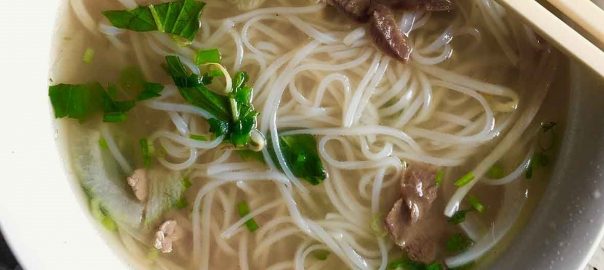 Low Carb Pho Miracle Noodles
Miracle Noodle Pho – Quick & Easy Recipe feat. The Low Carb Grocery owner Paul Yip
Recently, the Low Carb Grocery founder and owner, Paul Yip, demonstrated on The Low Carb Grocery YouTube channel, how to prepare pho using Miracle Noodle to create a delicious meal that's easy-to-make. Using Miracle Noodle keeps pho gluten, grain and dairy-free while making it safe for vegans to enjoy. This product is paleo-friendly and only contains 9g of total carbs per ½ package (108g). Some popular recipes contain as much as 65g of total carbs per serving.
Traditionally, making pho is a long process that includes upwards of 15 ingredients or more if you plan on making your own broth from beef soup bones or vegetable skins. The cook time is around 8 hours and the total time from start to finish is around 9.5 hours. Yeah, there's a reason most prefer ordering a bowl in their favourite Vietnamese restaurant instead of cooking for half a day.
Let's begin by introducing you to the magic that is pho, and the different ways you can prepare it. Then, we'll explore Miracle Noodles and provide a step-by-step guide to using this ingredient to making a big pot of savoury and perfectly seasoned pho.
With our help, you'll be enjoying a hot and satisfying bowl tonight. Trust us, your mouth will be watering before you finish reading this article.
What is Pho?
You might never find a more unique soup than Pho. It has a thin yet flavourful broth with strong notes of ginger and subtle touches of Thai or lemon basil. It's served piping hot so that it can cook thinly sliced beef or evenly diced raw vegetables. It's a wonderful combination of aromatic herbs, succulent noodles and a broth jam-packed with flavour.
Pho is a Vietnamese soup that started as street food before exploding globally. Years ago, it was an exotic treat that most people mispronounced (It's actually pronounced, "fuh"). Traditional versions of this soup consist of broth, noodles, herbs, beef or chicken. The common herb used in restaurants is cilantro. Remember, not everyone loves cilantro, so if you're cooking for someone else, serve it on the side.
Like any soup, the chef can take some liberties while maintaining the integrity of the dish. You can keep it vegan by excluding meat and using vegetable broth. You'll still want to include ginger and star anise but feel free to get creative with what vegetables you use. Most recipes call for an onion, green onion and bean sprouts but you can add mushrooms, celery, carrots or zucchini if that's your preference.
Unless you're allergic, we strongly recommend keeping lime in the mix. One squeeze of lime over your hot soup adds a layer of flavour that elevates the dish and provides some acid to cut through the saltiness.
Miracle Noodle
Miracle Noodles are a low calorie ready-to-make meal made with shirataki noodles. These long white noodles have a spongy texture and are quite filling. They are made from the root of the konjac plant making it high in fiber.
This product comes in a variety of tasty flavours, some inspired by classic Asian cuisine, others by Italian:
A package of Miracle Noodles costs under $5.00, and lets you enjoy a hearty meal that's perfect for either lunch or dinner. It also freezes well if you want to save some for a future meal.
Miracle Pho Noodles Video Recipe
To see exactly how it's made, watch this video where Paul Yip takes viewers through each step. You'll see how simple and quick it is to make.
Follow These Easy Steps
Making a bowl of pho using Miracle Noodle requires zero skill and only a little bit of time. Use this recipe to kick it up a notch.
Open the package and empty the contents. There should only be the noodles and sauce packet of pho broth.
Rinse the noodles under water in a colander.
Add noodles to a hot pan. You don't need to use any oil, but a dash of sesame seed oil adds some additional flavor. Mix with a wooden spoon.
Add a glass of water and empty the pho broth concentrate to the noodles.
Cover the pan with a lid and let the heat and steam cook the noodles with the broth.
If you want to add a protein now is the time. Add thinly sliced beef or small pieces of chicken.

If you use beef, keep in mind that it will continue to cook once served so you want to leave it a bit on the medium rare side if not closer to rare.
Most stores sell pre-cut beef, that's typically cut the right thickness for doing stir fry's and the like. If you're cutting your own from a whole steak, just make sure the slices aren't too thick.

Add your garnishes: green onions (using the white stems as they contain the most flavour) and cilantro. The garnishes will cook fast so keep an eye.
Now, it's all done so carefully transfer to a bowl and enjoy!
Because it's quick and contains few ingredients, Miracle Noodle pho is perfect to make at work if you have access to a stove or kettle. You can also whip up a batch in the short amount of time between work and going out. Additionally, it's a great post-workout meal that won't undermine your efforts at the gym.
Products to Use
You can choose what produce and protein to include in your Miracle Noodle Pho. Here are some products you can also include in your dish to enhance its best qualities.
True Citrus – Lime, Garlic & Cilantro Seasoning

This seasoning can replace fresh cilantro, which isn't always readily available or accessible. The lime component complements the dish and the garlic adds an interesting note. It's perfect for people who want to dull the cilantro flavour without omitting it completely.

Go Bio – Low Sodium Organic Vegetable Bouillon Cubes

If you want to increase the broth's flavour, simply add one bouillon cube while cooking. You can always reduce it with water beforehand.

Hot Mamas Splash Sauce – Lime Pepper

Fans of spice and heat should add a splash of Hot Mamas Splash Sauce. We recommend Lime Pepper as it complements this meal's flavour profile.
Shop our Store Today!
We promise you'll love our low carb take of classic pho featuring Miracle Noodle. It suits those with a busy lifestyle who can't afford the 8-10 hours it takes to make such a magnificent dish. Fans of Vietnamese food will feel like they're dining at their favourite local restaurant since it doesn't skimp on the flavour.
The Low Carb Grocery offers an impressive inventory of Miracle Noodle to help you make soups, stir-fried dishes and Italian meals with a twist that are absolutely delicious!
Shop our aisles to explore what low carb meals you can make and to discover your next favourite product. As a bonus, we offer free shipping for orders over $99.00.