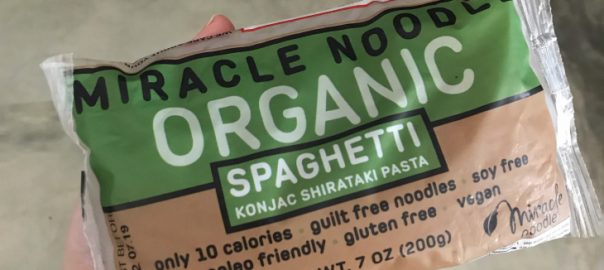 Miracle Noodle Spaghetti
Low Carbohydrate Miracle Noodle Spaghetti – with Paul Yip – Owner of The Low Carb Grocery 
Fans of the low carb lifestyle shouldn't have to sacrifice their diets to enjoy a quick and delicious meal. They also shouldn't miss out on eating a delicious noodle dish for dinner. Luckily, there's Miracle Noodle, a perfect choice for those who crave pasta dishes that are easy-to-make and also let you get a little creative with ingredients and flavour combinations.
The Low Carb Grocery founder, Paul Yip, recently created a video on his Low Carb Grocery YouTube channel, how he likes to prepare Miracle Noodle Spaghetti and why it's such a great product, especially for people looking to replace traditional pasta in their diet.
You will love this simple recipe that is great for dinner. As a bonus, if you make a big enough batch, you can enjoy the leftovers for lunch while your co-workers watch and salivate.
To start, let's create a baseline by looking at some classic spaghetti recipes. Then, we'll explore Miracle Noodle, and what makes it a such a great addition to any pantry. Lastly, we'll have some fun by providing a step-by-step recipe guide for Paul's signature spaghetti.
Classic Spaghetti
Spaghetti has been around for centuries and its different iterations are enjoyed in homes and restaurants in every corner of the world. It's pasta in the form of long solid strings and is traditionally paired with a tomato sauce and maybe a meatball or two. Like all pasta, spaghetti allows you to include your favourite vegetables, proteins, herbs, spices or flavours.
You can keep it simple with a nice tomato basil sauce or mix it up with a creamy alfredo sauce. Some like to opt for the drier route where they just pour some butter or brown butter (a warm butter sauce with a nutty taste) over cooked spaghetti.
If you've already watched Paul's recipe video, then you know that spaghetti can also be the basis for a delicious, hearty Asian-inspired dish.
Miracle Noodle
These instant noodles are a nutritious alternative to other pasta that's high in carbohydrates. Miracle Noodle Organic Spaghetti contains 0g of fat, only 3g of carbs and 2g of fibre (per 100g, roughly half a package),. It's a perfect addition to any low carb diet while still being flavourful enough for people who just want to indulge in a plate of pasta. Miracle Noodle can also reduce your meal's glycemic index, which can help control blood sugar level and contribute to a healthy lifestyle.
If Spaghetti isn't your thing, this brand offers a variety of types and flavours. Be sure to check out one or more of the following types of pastas or the rice substitute:
Miracle Noodle also comes in ready-to-eat meal packets in the following Asian-inspired flavours:
And two authentic Italian flavours:
Whatever noodle dish you love, Miracle Noodle offers a tasty dinner or lunch option.
Ingredients
To make this wonderful recipe, you really only need a pack of the Spaghetti Miracle Noodles. From there it's about adding the ingredients that you love, keeping the amount of carbs top of mind.
For this recipe, you will want to get these ingredients:
Cilantro (if cilantro is your thing, of course.)
Enoki mushrooms
Green onions with stems
Garlic
Soy sauce
Sesame oil
Cooking oil of your choice
Each oil serves a purpose. Cooking oil is to get the noodles crispy and to make sure nothing sticks to the pan. Sesame oil is strictly for flavour.
Follow These Simple Steps
As Paul illustrates in his recent video, Miracle Noodle—Spaghetti is easy-to-make and with a few notable ingredients, you can enhance the flavour and elevate the dish.
Simply follow these directions:
Gather your ingredients.
Open the Miracle Noodle package and empty the contents into a strainer. Then rinse with water.

You need to do this because there is a liquid inside the pouch that has a distinct smell, and we don't mean distinct as a compliment. The liquid smells a bit off but don't worry, that's completely normal and is needed to keep the noodles fresh.

Pour a bit of oil into the pan and let it heat up.
Add the noodles and cook them for two minute so they get crispy and the excess water is dried out.
Once it looks and sounds like the noodles are popping off the pan, remove them and set aside.
Add the garlic and cook until fragrant. Careful not to burn.
Now it's time to cook the protein.

We think beef works best but you could use tuna, salmon, chicken or tofu. Of course, feel free to keep it vegetarian if that suits your lifestyle.
For beef, use thin strips so that it cooks fast and doesn't overpower the other ingredients. Include as much beef as you want and sear on both sides.

Add the other ingredients: green onions, cilantro and a handful of enoki mushrooms.
When the mushrooms are ready, add the noodles back to the pan. Stir-fry for a few minutes.
Add some soy sauce. This can be done to taste depending on how much salt you want.
Add some sesame oil, again eyeballing it is perfectly fine.
Slide it out of the pan onto a plate. Top with garnish of your choice (cilantro or parsley) and then enjoy!
A good tip is to use kitchen scissors to break up the noodles while cooking. This will make it easier to eat.
Substitution Options
We love this recipe as it is but every palette is different. Some people can't be in the same room as cilantro or some don't want the salty hit that soy sauce provides.
There are a few substitutions you can make if you don't like one or more of the ingredients. You can also adjust just to change the flavour profile.
Here are some substitution suggestions:
If you want to go Thai, replace the cilantro with some combination of lemongrass, fish sauce, lime and chillies.
You can use parsley instead of cilantro.
If you don't like green onion, try a thinly sliced shallot.
Consider using sesame seeds if your protein of choice is tuna.
To make it shine with more Japanese flavours, you can add a small amount of miso paste or mirin, which is a sweet wine vinegar.
If you omit a protein, then load up on low carb veggies like broccoli, asparagus, zucchini, spinach or avocado.
Enjoy This Amazing Meal Today!
We hope you try this recipe as we know you'll love it! It's delicious, affordable, easy-to-make and lends itself to bountiful leftovers so you can keep enjoying it all week long.
Browse our selection of Miracle Noodle, which make for excellent low carb meals. It's a step up from other instant noodle or soup brands and lets you make a variety of soups, stir-frys and pasta dishes.
Shop our aisles to discover all the unique and enjoyable low carb meals you can make.