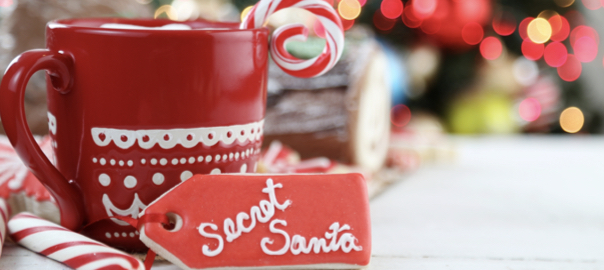 Great Secret Santa Christmas Gift Ideas!
Superstar Secret Santa Gift Ideas for this Year's Christmas Party
It's that time of year when holiday parties start coming at you from all angles and you get asked to participate in Secret Santa gift exchanges that make your anxiety levels rise because you can never find a really good gift for the event. Well, get ready to be the greatest Secret Santa ever, because we've put together an awesome list of great ideas that you can draw from this year.
Whether you're working with a strict budget cap, or are struggling finding something really funky for that unusual and eclectic co-worker, we've got you covered. This list ranges from the extremely useful to the wildly unique, and everything in between. So, let's get right to it!
Less than $25
These awesome superhero-themed barbecue tool sets will transform the average griller in to a legendary grill master! Choose from Batman, Wonder Woman, or Captain America, and watch the smile appear when the recipient peels back the wrapping to unveil their heroic set of grilling gear.
We love salsa, and this clever kit makes it super easy to grown your own vegetables and ingredients to make a fresh batch of your own salsa. We love the fun packaging of this kit, and that it's the perfect way to encourage some culinary experimentation with healthy, low carb ingredients.
If you've read our article about how to make your own sushi, you know that one of the essential tools to have on-hand is your own sushi rolling mat. This top-quality kit includes two rolling mats, a rice paddle, and a rice spreader. It's everything you need to make great sushi right at home!
Do we need to say anything else other than bourbon infused coffee? This has got to be one of the best ideas to ever come to the world of coffee. The wonderful flavour of bourbon accompanies the robust taste of dark-roast coffee for a coffee experience unlike any other. You may want to buy an extra bag, just in case you decide you want to keep one!
Between $25 and $50
Ok, so we may have been inspired to search out more infused stuff since we found that bourbon-infused coffee, but we consider that a good thing since it led us to this amazing collection of hot sauces. Each sauce consists of a unique chili pepper paired with a different alcohol, such as jalapeno/tequila and chipotle/bourbon. If there's any hot sauce lovers in your Secret Santa pool, this gift will be a big winner.
Star Wars Death Star Waffle Maker
Just in case you wanted to offer up a little more Star Wars in to someone's life, this super-cool waffle iron makes Death Star-shaped waffles that are sure to make breakfast a little more fun and interesting. Easy clean up and quality construction make this a top-notch waffle machine. An excellent way to make low carb waffles that are definitely out of this world!
Who needs more bacon? Everyone! This incredible gadget makes awesome little bacon bowls that are perfect for all kinds of appetizers & delicious low carb recipes. It makes two bacon bowls at a time and has an easy-clean surface. When you give the gift of more bacon, we're pretty confident that you'll get a very sincere 'thank you', and maybe even a hug.
Challenge your Secret Santa to a game of foosball with this cool little tabletop game set. It's got all the great features of a full-size foosball table scaled down to make it portable and easy to play anywhere. It comes with two foosballs, and includes metal rails, rubber handles, excellent detailing, and built-in scoring sliders. Game on!
Over $50
We speak from experience when we say that receiving a new pair of socks every month is way more fun than you'd think it would be. Especially when they are funky, cool, colourful and clever. Socks like these are real conversation starters, and let the wearer express some more personality in their attire. Socks used to be the most boring of all boring gifts, but now they're one of the trendiest and coolest things you can wrap up for the holidays.
Even the most adventurous need to chill out from time to time, and this hammock is a great gift for the outdoorsy types in your Secret Santa pool. Available in three different colours, and amazingly comfortable, this hammock is lightweight, durable, and packs up nice and small, making it ideal for backpackers, canoers, kayakers, and other outdoor enthusiasts.
Salad lovers who also dig nautical themes will adore this unique serving bowl. Made from polished aluminum and plated in silver, it comes complete with two beautifully finished wooden serving oars. This charming bowl is stylish and elegant, but also playful and fun, making it an interesting way to add some flair to a dinner table or salad bar.
History buffs and self-proclaimed scribes will fall in love with this gorgeous leather journal that looks like it was lifted straight out of an epic movie full of knights and kings. Equally ideal for stories or sketches, the style of this 5"x7" journal is wonderfully unusual, and will surely become a treasured keepsake.
Enjoy Your Holiday Celebrations
This time of year, it's good to keep in mind why we celebrate and what's really important in our lives. Be thankful for loving family and caring friends and do your best to pay your good luck forward this season.
As you head in to the festivities to conduct your Secret Santa gift exchange, have a great time and spread the cheer around.
Happy holidays, to one and all!