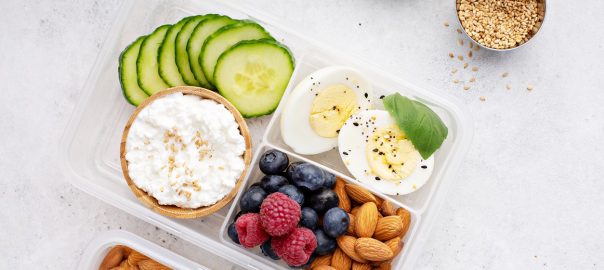 Great Low Carb Lunch Ideas
Easy Low Carb Lunch Ideas
Hearty and healthy low carb lunches that are easy to make and will satisfy your hunger!
Lunch can be a tricky meal to get right. It is easy to grab the quickest, cheapest or most appetizing meal from a limited set of options, or simply skip it altogether. But it is important to fuel your body with the right nutrients, even when it seems inconvenient. A healthy lunch can give you enough energy to power through the rest of your day and help prevent you from making hasty decisions around dinner. Lunchtime is also a great opportunity to take a moment to pause your busy day, recharge and relax. Your diet is just as important as your mental health when it comes to your overall wellbeing.
Making healthy lunches takes some forethought and planning. Luckily, we are here to offer inspired low carb lunch ideas that are simple, tasty and will help you stay on track of your diet! The purpose of this article is to encourage you to rethink your lunches if they tend to be scant, and come up with a simple meal plan for the coming week that feels manageable to you. Once you decide which recipes work for you, be sure to browse all our low carb foods to find the ingredients you will need!
The Ideal Low Carb Lunch
Like the rest of your diet, your lunch should consist of the same macronutrient ratios that you have committed to. This should include a focus towards healthy fats such as avocados, olive oil, coconut oil, eggs, nuts and seeds, fatty fish and full fat dairy products. You should also aim to include enough fibre from low carb vegetables. Fibre is important for stabilizing blood sugar and it can help you feel fuller longer, so you can remain focused in the afternoon and stay satiated until dinner time. Lastly, be sure to include a moderate amount of protein at lunch to also help ward off hunger. Try to choose clean sources of protein such as grass fed and pasture-raised meat, dairy and eggs, as well as nuts and seeds or tofu.
Low Carb Lunch Recipes
Below you will find a number of recipes that we recommend for an ideal low carb lunch, which are easy to prepare and taste great!
Spaghetti Squash Bowls
Spaghetti squash is low in carbohydrates and super easy to prepare the night before. Simply cut the squash in half, drizzle with olive oil and seasoning and roast in the oven with the cut side facing down for 45-60 minutes. Then, you can fill the centre with sauces and toppings of your choice! The best part is the squash serves as a vessel for your meal, which you can fit in a reusable container and heat up at lunch time.
Here are some topping ideas for your spaghetti squash bowls:
Cobb Salad
Cobb salad is a great lunch option for low carb and keto dieters. This hearty salad is filled with rich ingredients that satisfy hunger and give you a midday boost of energy!
The traditional cobb salad calls for lettuce, tomatoes, cooked chicken, hard-boiled eggs, avocado and bacon. It is usually served with a red wine vinaigrette and crumbled blue cheese. You can browse our selection of low carb salad dressings, or make your own by following these instructions:
Whisk together the following ingredients in a mixing bowl, or use a mason jar and shake to combine:
½ cup olive oil
3 tablespoons of red wine vinegar
1 tablespoon of Dijon mustard
2 cloves of garlic, minced
1 tablespoon of dried oregano
½ teaspoon salt
¼ teaspoon ground black pepper
Also check out this article for how to prepare a classic Cobb salad. There are tips for how to make this salad in advance to keep it fresh to ensure the lettuce doesn't get soggy.
Lettuce Wraps
Lettuce wraps take the carbs out of this classic lunch item – plus, they are fun to build and easy to customize to your liking!
Check out this comprehensive guide to keto-friendly lettuce wraps! It teaches you how to make and fold lettuce wraps perfectly, and provides recipes for different fillings such as avocado chicken salad, tuna egg salad, and easy Mexican-style carne asada. The possibilities are endless with this versatile lunch option! When you're in a rush you can simply fill your wraps with deli meats, cheese, hard boiled eggs and raw veggies. If you are feeling more adventurous or have leftovers from the night before, you can amp up the flavour with any of these delicious recipes.
The Low Carb Grocery also carries low carb wrap and tortilla alternatives to traditional wheat varieties if you want something more substantial than lettuce. Many of our options are gluten free and high in fibre, which can keep you feeling full and energized throughout the afternoon. Browse our full selection here!
Soups
Soups are a great light lunch option if you're not one to typically eat a big meal in the middle of the day. Plus, you can make a large batch over the weekend and store the leftovers in your fridge for the next few days. Simply heat up a bowl at lunch time and enjoy a warm and comforting meal – especially good for cold or rainy days!
Soups tend to be low in carbs since the base is a healthy and nutritious broth, which you can either make at home or easily find inexpensive options at the store. Bone broth is known for its extensive health benefits including a rich nutrient profile and the ability to improve joint health, reduce inflammation, support weight loss and heal the gut.
Check out these recipes for homemade soups that you can easily make, even if you're a first-timer:
Also browse our selection of low carb buns, great for dipping in hot and yummy soup!
Bento Box-Style Lunches
Bento box lunches are great if you prefer to snack throughout the day or like to include a variety of food in your meals. You can purchase lunch containers that are divided into separate compartments and easily fill them the night before or in the morning.
Here are some low carb options that you could fill your bento box with:
Raw fruits and vegetables. Berries are low in carbs and vegetables such as cauliflower, broccoli, bell peppers, greens, tomatoes, and celery are all great choices.
Healthy fats such as avocado, olives, hard-boiled eggs, raw nuts and seeds and cheese.
Proteins such as cooked chicken or beef, deli meat slices, jerky, tuna, smoked salmon or hard-boiled eggs.
We also found some bite-sized low carb recipes that would fit perfectly into a bento box-style lunch container:
Check out this bento box guide for more great ideas and inspiration!
Sandwiches
We couldn't forget about the most classic lunchtime meal of all – sandwiches! These don't have to be ruled out on a low carb or keto diet because there are several low carb breads, pitas and wraps to choose from to make your favourite sandwiches compliant with your diet. Check out some of our favourite low carb bread alternatives:
Get Prepping!
We hope you found some lunch inspiration from this article and have spotted at least one recipe that you are excited to try! We also encourage you to take the foods you love and add a low carb twist with the wide selection of low carb products and alternatives that we offer.
If you try any of these recipes, please don't forget to leave us a comment on Facebook or tag us on Instagram. We also love to stay connected with our Weekly Newsletters for updates on our latest products and sales! And please leave us a Google Review with your Low Carb Grocery experiences!